November 9, 2007 The Grief and Loss Class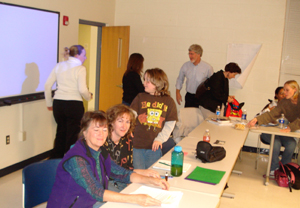 It's a yearly class on grief and loss for counseling students, taught by Radford University Professor Alan Forrest. The curriculum includes reading Tuesdays with Morrie and The Jim and Dan Stories, the book I wrote about losing my two brothers a month apart in 2001. The students, usually about twenty or so, watch a video of Morrie being interviewed by Ted Koppel, and also get to meet me in person for one of their classes.
It begins with all eyes on me, which after being a guest four times in the last four years I'm starting to get used to. I broke the ice this time by reading my writer's blog bio – Whenever I don't know exactly what it is I'm doing and it borders on wasting my time, I call it research. 'Dear Abby, How can I get rid of freckles?' was my first published piece at the age of eleven. The bio caused the group to erupt into laughter, which is always a good thing, especially considering our primary subject matter was death.
I generally spend anywhere from a half hour to an hour talking about how the book came about, what it was like to write it, and what has happened since. My husband, Joe, who took Alan's class when he was a counseling student, has accompanied me to each class, giving support and adding comments that help me stay on track. He pulls up my webpage and blog on the classroom screen. I pass out photos, tell stories, and usually read one of my essays on death and a poem or two.
My favorite part of the class is when it's opened up for discussion. I'm always surprised by how thoughtful the student's questions and comments are, and I find myself thinking about them for days after the class is over.
The only male, besides Alan and Joe, and one of the few older students posed the first question. It was a variation of one I had heard before:
"I almost felt like I was violating your privacy when reading the book. How were you able to share such a personal story?" he asked.
I explained that it is an intimate story about a family's loss, told from one family member's perspective. But it was also a universal story.
"Death is real and one of the most important subjects there is, but one that hardly anyone talks about," I said. I also explained that I was shy at first about sharing my story, but the book unfolded in steps that I and other family members were comfortable with.
Someone usually wants to know how my process sorting out my beliefs about an afterlife is going. Discussions about family dynamics are always explored, because ultimately the book is a story about family and love.
This most recent class had a very special feature. My friend Mara and her ten year old daughter Kyla attended. Mara and I are both poets and Scrabble enthusiasts who also share a grief bond. Not only is she a reoccurring character on my blog, but she appears in my book on more than one occasion. She lost her husband, Cory, two weeks before my first brother died, and we supported each other from a place of knowing acute grief in the aftermath of the deaths.
After the class break Mara and Kyla read from the booklet they co-wrote five years ago. When Mara discovered there were no books available geared for young children that would explain death in a realistic way, she helped Kayla tell the story in her own words, using photos to illustrate them. Kyla may have gotten even more questions than I did. My favorite was when a woman asked what she told her friends about her dad. Kayla answered that she had to get to know them and trust them before she could tell them that her dad was dead. Mara, who has a grief counseling relationship with Alan, read some of her poems about death. Some comic relief by way of poetry was also offered.
A bond is created by sharing a sensitive and emotionally charged subject so openly. After the class people hug, share more of their own stories, and ask me to sign books. Even the ones who were utterly quiet during the three hour class come up to me to thank me for sharing.
---
Every Cloud Has a Silver Lining (January 3, 2007)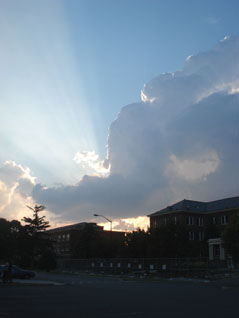 My brother Jim, who was a lover of storms, was more at home with the elements than he was with people. As the stories progressed, his essence began to emerge as the mysterious changing qualities of the moon. Dan was compassionate and generous. His bright light was personified by the sun. A silver and gold thread began to shine through the dullness of my grief and weave itself through the stories. The mythical presence of Jim and Dan, expressed through dreams, symbols, and the coincidences that my family and I shared, supported me in my grief and became the signposts out of it. ~ From "The Jim and Dan Stories"
"Two words," I said to my husband as we were walking through the front door of Sal's Restaurant, ready for a late supper.
"Cue cards," I blurted out.
It was 9:00, and we had just come from the Radford University grief and loss class that is using my book, "The Jim and Dan Stories," as part of their curriculum. I was the guest speaker, and Joe was telling me what a good job I had done. For once I didn't deflect his feedback.
It was the 3rd time I had spoken to a class of Radford University counseling students in the last 2 years, and so I suppose my improved public speaking abilities could be due to the fact that I'm finally getting the hang of it, but it was also the first time I used noted index cards, and I think they helped immensely.
In "The Jim and Dan Stories," I mentioned my ongoing fear of public speaking, so this group of 16 who had all read the book, smiled knowingly when I shuffled my index cards and began our hour-and-a-half together by saying, "I write better than I talk."
Having my husband, a former counseling student who enjoys speaking to groups, by my side gave me an added boost of confidence. Although he injected less than he has in the past, he was able to overview the direction of the presentation, gauge the responses of students, and remind me to slow down when necessary. He also logged onto my webpage and blog and displayed them on a screen for everyone to see.
The evening included a show-and-tell of newspaper articles about the book, photographs, a scrapbook, and emails and letters from readers. My index card notes of talking points included headings such as; How the Book Came About, The Shadow Epilogue, The Turning Point in My Grief Process, What has happened since Writing the Book, The Hull Village Reunion, and Grieving My Father's Death. When my mind either went blank or became overloaded with what I wanted to say, I could glance down at my index cards and stick to my own script. Other times, I could refer back to them, after having veered off into a class-led discussion.
In the chance that the students might be hesitant to be vocal, I came equipped with a short series of questions that past readers had asked and a few questions that I like to ask readers, but I didn't need to use them. The class, mostly women of various ages, was welcoming, intimate, and engaging.
In closing, I read "The Black Feather," an account of a recent transpersonal experience related to my father's death in November. By the look of the wet eyes in the room and by the feel of the hugs at the end of the evening, I knew it was a worthwhile shared experience, one that I would find myself thinking about later.
On my way out of the building, a woman who had been in the class but had not spoken a word approached me shyly and asked, "Just how did you conquer your fear of public speaking? I'm not even able to speak up in class."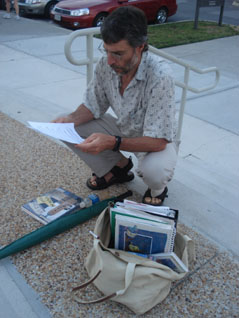 "I'm still working on it," I answered. "The more I do it, the easier it gets. But it's never easy, even with cue cards," I told her.
Outside, I emerged, feeling like I had passed a milestone. Looking up, I noticed that the sky was filled with an amazing formation of large clouds. Seeing them, outlined by the gold of the setting sun, I instantly thought of my brother Jim, the weatherman, and my golden-hearted brother Dan. The clouds were like a "thumbs up" from them and a visual validation of something I had just said in the class. Death doesn't only take away. Because Jim and Dan lived and because I wrote about them, so much love and insight has been given, received, and shared.
July 3, 2006
Top
---
Silver and Gold: The Update (November12, 2005)
Since my last Silver and Gold update, I won a $100 gift certificate at a poetry slam, participated in several spoken word events, and went to the 4th annual Jim Redman Memorial Picnic at the Blue Hill Observatory (all of which are recorded on the blog). It was the first time I was able to attend the memorial picnic, held on the anniversary of my brother Jim's death at the observatory where he was a volunteer and a weather club member. At sunset that evening we gathered together as my sister-in-law Jeanne, our resident family inter-faith clergy person, read an original invocation in honor of Jim:
With the crash of the waves, We remember.
With the whisper of the wind, We remember.
With the sun on our face, We remember.
With every record breaking meteorological event, We remember.
With the storm on the horizon, We remember.
We remember that you are like the storm Jim,
just over the horizon,
Though we cannot see you,
We remember that you are just beyond our view, waiting for us. And so it is with joy and gratitude that we remember. . .
The crash of the waves says "I love you."
The whisper of the wind says "I love you."
The sun kissing our face says "I love you."
I love you. . .we remember.
And finally, here are a few words written by a childhood friend of Danny's who attended the Hull Village Reunion. He was "pecking his way around the internet" when he came upon the Hull Village Reunion Photo Page and emailed me this… It got me thinking about your book and all the warm fuzzies I felt while reading it. I really just wanted to say thank you…and to let you know that my life is full of Danny moments.
So is mine.
Thank you to everyone for your supportive and heartfelt feedback.
---
What's New? The 3rd Printing of "The Jim and Dan Stories" February, 2005
I recently landed from a 3 year ride(some would call it a crash) that began in the summer of 2001 with the deaths of my brothers and peaked on Memorial Day, 2004, with a reunion in Hull Village, Massachusetts, where my siblings and I grew up. My brothers' deaths were the impetus behind the writing and publishing of my first book, "The Jim and Dan Stories," and the Hull Village Reunion came together as a response to the book. 150-200 old friends attended the reunion, The Boston Globe wrote a story about, and the Hull Cable TV station aired a video-taped portion of it …So begins my yearly Christmas letter of 2004.
Before going on to describe our new family camper (The Star Trek Enterprise) or brag about our best potato crop ever, the letter chronicles the aftermath of the reunion, including my two guest appearances at Radford University, where my book was part of a grief and loss class curriculum; the touching conversations and correspondences I've been having with people who read the book; the putting together and publishing of "Muses Like Moonlight," my first collection of poetry (conceived via the momentum of the first book); and the book signings and readings I was doing in relation to the two books.
So much high energy to contain, but gravity tells us that what goes up also comes down. AND SO…THE CRASH WAS INEVITABLE…and the missing of Jim and Dan wasn't any less, my Christmas letter concluded.
For a period of time, I felt over-exposed and unfocused, as though I had lost my job and didn't know what would come next. I wondered where my creativity was. I longed to feel the inspiration described in "The Downpour," the prose introduction to a group of poems in "Muses Like Moonlight"…Sometimes I feel the muse's nearing presence as a sense of weighty tension. And then something snaps and the barrier is broken. The rhythm of language, like the rhythm of a rainstorm, is the only thing I can hear. My pen douses wildly on notebook paper. My keyboard pounds out a beat…
In August I managed to eke out a new poem, "Starting a Fire," by confronting my own lethargy and digging for the roots of it. Then in the fall, a few lighter poems emerged, followed by a humorous Father's Day essay, titled "Let me Clue you in." I had been asked to participate in our town's "Spring into Summer" event by being a judge in a Father's Day essay contest. The contest inspired me to write about my own father, which proved to be the breakthrough in my dry spell. Yes, there are other things to write about besides Jim and Dan and the grief of missing them, the essay seemed to confirm. Of course the political scene and the November Presidential election kept me busy (check out the new commentaries posted), but it wasn't exactly inspiring and the end result actually added to my sense of grief.
I still get the surprising, quirky question or comment about my books, like the recent phone call I received from a local woman, who, before introducing herself, blurted out, "I heard you wrote a book. Was it hard?" I also received a phone call from another stranger, responding to my "Want Ad" poem, titled "Lost: the Muse." It starts out…Loyal but shy…last seen on Friday…and ends with…Call 745-2254 if you know where she is. I guess he wanted to help me out or maybe he thought there was a reward involved.
The ride is hardly over, although the pace has settled down. Talking to strangers and friends, old and new, about how my books have affected them is still the best part of the journey. Most of the correspondences I receive are responses to "The Jim and Dan Stories," the heartfelt kind that confirm my feeling that the book is fulfilling its higher purpose.
A few recent comments include: Your book is incredible!; Captivating…I really could not put the book down and will be passing it on and recommending it whenever possible; Believe it or not I just read your book for the second time. I am sniffling because I laughed and cried more this time than the first time.
The most recent comment, received just this week, was one that had me reeling. It was related to a part in the book where I describe my brother Dan's compassion for the homeless. It was raining and I saw a homeless man under some bushes with a newspaper covering his head. My husband, like Dan, can never pass someone who looks hungry or homeless, so we gave him some money in memory of our friend, Dan!
Writing leads to more writing. Since I began this update, several other writing projects have been conceived. My husband, Joe, and I began talking about co-writing an article on Bibliotherapy and grief. I'm also thinking about Dear Diary revisited…a writer's reality show…organizing my copious thoughts and notes daily…in other words starting a Blog! (An online journal).
Somewhere in the mix, the third printing of "The Jim and Dan Stories" occurred, which elicited some new press and interest. There is also my ongoing project that I call the "Interview Questions," designed to collect family stories without too much narrative or labor. "The Interview Questions" grew out of my realization that there are some questions I wished I had asked Jim and Dan before they died.
And last but not least… a new poem about my brothers and the challenge of accepting death, written for the 3rd anniversary of theirs and freshly off the local café poetry reading circuit at Oddfellas Cantina, here in Floyd. See you next time!
Send me an email to tell me what's new with you.
---
Hull Village Reunion and Book Signing
Memorial Day - 2004
The day started with a message from my brother Dan (who died in August 2001) from a dream that the organizer of the Village Reunion, Betty Ann (Mitchell) Doherty, had. I joked that she "channels Dan" for me because it wasn't the first time she had a dream like this: I was running up past the cemetery along the bay when I noticed a truck with REDMAN on the side of it parked in a parking lot. It was Danny sitting in the truck, talking on the phone. I said to whoever I was with, "Oh, that's Danny probably talking to Colleen about who will be at th reunion." [ Read the full story ]
---
April News from Silver and Gold: Winning the Lottery
April 30, 2004
April was so busy that when putting together the Museletter, the homespun Floyd forum I co-edit, I wrote May on the front page instead of April. For the first time in 18 years, I got the month wrong. Only one confused reader phoned to ask me about it. Does this mean that the rest of the Museletter subscribers are as distracted as I am?
Putting May on April's Museletter wasn't a typo, as much as it was a sign of what I instinctively knew was to come: A month so fast and full that it would leave me spinning.
It all began with my guest appearance at the Radford University grief and loss class that is using my first book, The Jim and Dan Stories: A Journey of Grief and Faith, as part of their curriculum. After sharing the behind the scenes writing of the book and the positive repercussions it has created, I answered questions: How did you remember your childhood so well? Did you keep a journal? Do you believe in an afterlife? Most of the questions were actually comments, as the class of 25 opened up and shared how the book affected them. My husband Joe, a graduate student of counseling, led a writing exercise that brought the class to a catharsis of emotion. Practically every one was crying.
Just two days before this I had picked up my second book from the printer, a collection of poetry called Muses Like Moonlight. I was glad I had it on hand. Although it wasn't part of the plan, I found myself concluding the class by plunking the new book and reading some of my more humorous poems, feeling the need to bring the class back to the present and wanting to hear the healing sounds of laughter before we left.
Somewhere in between a trip to Asheville, North Carolina, to visit my son, getting our taxes mailed off, and writing a political commentary, I got word that The Boston Globe was planning to do a feature on The Jim and Dan Stories and the reunion it has spurred in Hull Village, Massachusetts, where my siblings and I grew up and where many of the stories in the book were set. This was on top of also learning that The Hull Times newspaper would be doing a similar story.
I didn't make it to my Writer's Circle, or to the Floyd Dance Free that week (events that were scheduled in writing on my calendar). Rather, I was doing two interviews at the same time (via telephone and email). I was calling my mother to hear how her interviews went. I was corresponding with Betty Ann Mitchell, the former Hull Village resident who first proposed the reunion after being inspired by The Jim and Dan Stories. She was also being interviewed (twice) and was busily involved in making plans, getting permission to hold the event at the Village playground, hanging flyers, and contacting old friends.
I didn't make it to the April Contra dance at The Winter Sun, or even to Foundation Stone (my favorite Floyd band to dance to) who played at the Pine Tavern in April. I did attend the Spoken Word Night at Oddfellas, where I read poetry and sold a few books. I did do a book signing for Muses Like Moonlight at The Harvest Moon Food Store in the outside café-like atmosphere amongst the Moon's wicker furniture and wind chimes.
See what I mean? A cottage industry or a full time job? If I made birdhouses instead of books, would my life would be simpler? I wonder.
April was also the month that my sister Sherry won the lottery! Those of you who read The Jim and Dan Stories might remember that gambling plays a large roll in the lives of most of my family members. I think Sherry's lottery win was Jim and Dan speaking to her (in a language that all three of them knew), just as their way of speaking to me has been through the writing and launching of The Jim and Dan Stories, and all the connections it's rekindled.
Sherry, who won a substantial amount, shared some of her new wealth by sending all her family members a check. Enclosed with the check was a picture of our now deceased brothers that she had found and made copies of. In the picture Jim and Dan were sitting together at a table, smiling broadly and holding thumbs up…all four of them! This was the picture I passed around at the start of the grief and loss class I spoke to. It's the picture I now have in several places in my house that I look at when I'm weary and need encouragement.
The Hull Times article, "Author's remembrances to spur Village reunion on Memorial Day," was published on April 23rd. Unbelievably, I had met the reporter who wrote it at last January's Peace March in Washington DC when I noticed his press badge said "Hull" (proving that the coincidences surrounding Jim and Dan and the book go on and on). In the article, he described my poetry as "piquant and unpretentious." For those of you who aren't sure about the meaning of "piquant" (I looked it up), it means: sharp, pleasantly tart, engagingly provocative, stimulating, and with lively charm. One of the fringe benefits of putting yourself out there, is that as people describe what it is you do, you begin to understand it better yourself.
May is fast approaching. Will it be as busy as April? (I haven't even mentioned the garden or my foster care business.) In May, I have another book signing at The New Mountain Mercantile. I'll be attending the Woman's Open Mic night on Mother's Day at the Pine Tavern, and of course I'll be heading up to Hull for the first ever Hull Village Reunion. The Globe article will come out in early May and will likely stir more letters and emails that begin… "You don't know me, but…" or "You probably don't remember me, but... all of which I'll happily respond to.
I grew up on a peninsula, and in the Village section of town, at the peninsula's tip, all my brothers once walked paper routes, kids played outside all summer, and no one locked their doors. We had a grocery store, fire station, library, playground, church, school, and places to swim and dig clams all within walking distance. Some of that is gone now.
"Did you realize when you wrote the book it would stir up so many memories that other Villagers had tucked away? How do you think a Hull Village childhood differed from the way others grew up in that same era?" the Globe reporter had asked me. In answering her questions, I became emotional when talking about our Hull Village childhood, and I realized that not only are the memories of my brothers being honored, but the special place we came from would also be honored in the telling of this story.
A vein of silver and gold, representing Jim and Dan, is the unseen treasure all of the above events rest on, which causes me to ponder the bittersweet richness of life and to recognize that there's more than one way to win the lottery. Many Blessing, Colleen P.S. We dubbed the May Museletter "Really May."
The Jim and Dan Stories and Muses Like Moonlight are available in Floyd at The Harvest Moon, The New Mountain Mercantile, and Notebooks and online at silverandgold.swva.net. You can also purchase them from the backseat of Colleen's car if you can slow her down long enough.
---
November 22, 2003

The feedback to "The Jim and Dan Stories" has surpassed my wildest dreams, both with the many heartfelt responses I've received, and with sales. I sold out of the first printing of 300 in just over a month, recouping my initial investment and even making a small profit (re-investment into the second printing).
Although I threw my back out at one point during those first 2 months - proving that positive excitement can be just as stressful as the negative kind - the whole experience has been a rewarding adventure. My favorite thing about having a published book has been witnessing all the attention and support my mother has received in my hometown of Hull, Massachusetts because of it - and if the book were a vacuum cleaner, she would be the salesperson of the month (with my sisters taking a close second).
After the article about the book, "Hull Native Mines Memories for First Book," appeared in the Hull Times Newspaper, my mother had people coming to her house wanting books, some she knew and some she didn't. One woman wanted my mother to sign the book, another said, after reading it, "Barbara, what a wonderful family you have!" Then there was the call from a local hairdresser asking my mother if she could drop by with a book because a customer there wanted to buy one. She doesn't go out without a couple of books in her pocketbook now, just in case.
The sound of packing tape ripping off the roll was frequently heard in my house during those first two months, as I searched relentlessly for every stray shoe box to pack books in. A classmate of my brother Jim's ordered some books in bulk to sell to other classmates. A member of my mother's church took a stack to sell at the library. My husband's Counseling Professor at Radford University said to him, after reading the book, "…She reached right in and grabbed my heart…and then she never let it go!" He decided to make the book required reading in his upcoming grief and loss classes and has asked me to be a guest speaker.
The book has sparked the re-kindling of many old connections and has also created new ones, for me, as well as for my whole family. One morning I went up to my computer to check my email and found this: I AM THE DAUGHTER OF THE FUNERAL-LIMOUSINE DRIVER, AND I JUST THIS SECOND FINISHED YOUR BOOK! She was referring to the story, "Two Fires," in the book that begins like this: "The funeral-parlor limousine driver was the father of another big Catholic family we grew up with in Hull Village. We used to see him and his family in church, back in the days when our family could fill up a pew, and before our church, St. Mary's of the Bay, became a private residence with plastic lawn chairs out front…" The email went on, "You have no idea what you have shared with so many of us and how you have touched our lives…"
In our family, every dream of Jim or Dan is a big event; no matter who has the dream, it belongs to all of us. I think of these dreams as "Jim and Dan sightings" and I know my family member's dreams as well as my own. It seems that the book has increased the opportunity for even more Jim and Dan dream contacts. This is what "the daughter of the funeral-limousine driver," Betty Ann (Mitchell) Doherty, shared with me in one email: "I had a dream about Dan last night. I dreamed that we were in the High School Gym at a rally or something, and Dan was lying on the floor, just hanging out watching the festivities. I saw him and went running over to him and asked him to autograph his book, the one that you wrote!"
Beside the fact that "The Jim and Dan Stories" were the impetus for the reconnection between my family and the Mitchell family, and that Betty Ann's dream was like a gift to me from Dan, the communication between Betty Ann and I has spurred the inception of "The First Annual Hull Village reunion!" After reminiscing and acknowledging the special bonds those who grew up in the Village share, she posed her idea, "How about we set a date for a reunion next Memorial Day? We could meet at the Village Playground after the parade?" "Don't forget to bring lots of books to sign!" she added. So far the response to the idea has been great, with more re-connections rippling out to people from all over, and press coverage being planned. To think that the first ever "Hull Village Reunion" is being manifested, ultimately, because Jim and Dan belonged there, is an example of what I mean when I say that "The Jim and Dan Stories" has surpassed my wildest dreams.
Another highlight during this period happened at an Equinox Celebration, held at my neighbor's farm in Floyd County, Virginia. At dusk, and just before heading to the bonfire, a friend, who had read the book, came up to me to say hello. After a few social exchanges, he said, "Wouldn't Jim have loved all this excitement over Hurricane Isabel?" I was thrilled! One of the reasons I wrote the book was because I wanted more people to know my brothers. When they died, I felt somewhat estranged from my community, because nobody here knew my brothers. Some didn't even know I was one of nine siblings, such an important part of who I am. "Yes! Jimmy (who was known as "the weatherman" by some) would have loved it!" I was so happy to answer.
Currently, we are waiting on a review of the book, being written for a counseling publication. With the new bright cover (designed by my sister Sherry's husband, Nelson) and the unveiling of the all new and improved website (also Nelson), Silver and Gold Productions is beginning to feel like a real cottage industry. A collection of my poetry is planned for the next publication. I'm stocking up on packing tape. Colleen Redman November 10, 2003