The first batch of "The Jim and Dan Stories: A Journey of Grief and Faith," arrived on the 2nd anniversary of my brother Jim's death, July 25th. My husband, Joe, picked them up from the printer and then met me at Winter Sun in Floyd, Virginia, where we were hosting our first "Zouk/Dance Free." Zouk dancers, Pat Spino, Luke Staengl, and Randye Shwartz got the first 3 signed copies. After that night I lost count of the numbers.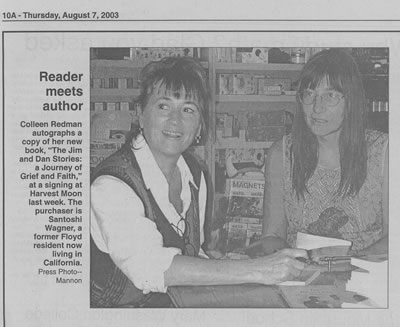 Following some local coverage about the book in the Floyd Press and a first book signing at the Harvest Moon, I headed for my home town in Hull, Massachusetts, to visit my family and to make the book available there, where many of the stories had taken place. My trip was monumental and included a heartwarming and raucous high school class reunion, seeing whales for the first time off the coast of Provincetown, and selling "The Jim and Dan Stories" off my mother's front porch (drive-by sales, I call them).
I brought 55 books in an over-packed suitcase, which promptly got searched at the Greensboro airport. The airport security guy took out each and every book and flipped through pages, as though he were looking for anthrax. We wanted to take a picture – the sight of all these books spread out on a table and mixed in with my underwear and hairdryer seemed too strange to be true – but he wouldn't let us.
I didn't think it was appropriate to hawk a book about my brother's deaths at my class reunion, but I told a handful of old friends/classmates about them, which was part of what led to the traffic on my mother's front porch. Between them, my large family (who each got a couple of books and then bought a couple more), and making them available in local shops, I was out of books in no time. Joe sent me more, but by then other family friends and people at my mother's church had heard about them. Soon I was out of those too.
When the first article about the book came out in the Floyd Press with my picture and a headline claiming "Author to Sign Book," I felt like a teenager in my first training bra that the whole town knew I was wearing. And even though my hands shook as I opened up the Hull Times newspaper to see if the interview I had done with the editor was in it, I am finding the whole process rewarding. Word of mouth and step by step, the momentum of the book is building, never faster than I am ready for and never in an impersonal way.
Apart from the fact that I am an archivist at heart and that I wanted to keep the memory of my brothers alive, there are two other purposes I envision for this book. The first is that I am hoping it will be helpful to others who are grieving the loss of a loved one – and there has been some movement in that direction. I have an invitation extended by my husband's Counseling Ed. Professor to be a guest at his grief counseling classes, where the "The Jim and Dan Stories" will be a required read. I am also planning to volunteer at "Camp Tree House" this fall, a camp hosted by our local Hospice for children who have lost a loved one. Plans are in the works to make the book available to the Hospice community.
The second purpose I would like this book to fulfill is to encourage other writers to break out and tell their own stories. And the ordinary stories (which are never so ordinary) are the ones that interest me most. My message to others is to start where you are and let your expression grow from there, work locally, be famous in your own small town for whatever it is you do, because a small town is really just a microcosm in which the whole world is reflected.
Some of the perks to taking my "book tour" to Hull – beside the whales and all the meaningful interactions with family and friends – were: playing with my little nephews, getting a pedicure from my sister, taping my dad reading his Army boot camp poem, riding with the top down in my brother's sports car, playing scrabble, dancing, and sunset walks on the beach. And how cool is it to have had my first book signing at the Harvest Moon, a second home for many of us in Floyd? (But am I the only one who thinks they should pass out a map upon entering the new bigger store?)
And so the word is out: My handwriting is the worst, and for some reason at my first book signing, I couldn't even spell the name "Jean" correctly (apologies to Jean LaCoste). I still shhhhish my husband when, in his excitement, he talks about the book too loudly to others before I feel ready to talk. But it's all good, and the most important thing I am learning is this: When we do what we were made for and follow it to a completion, when we offer our work as a way to touch others, it opens the way for more.
My second book signing was held at the opening of the Jacksonville Center in Floyd on Saturday, September 13th at 5 p.m. I was one of three local authors at this event reading excerpts from our books.